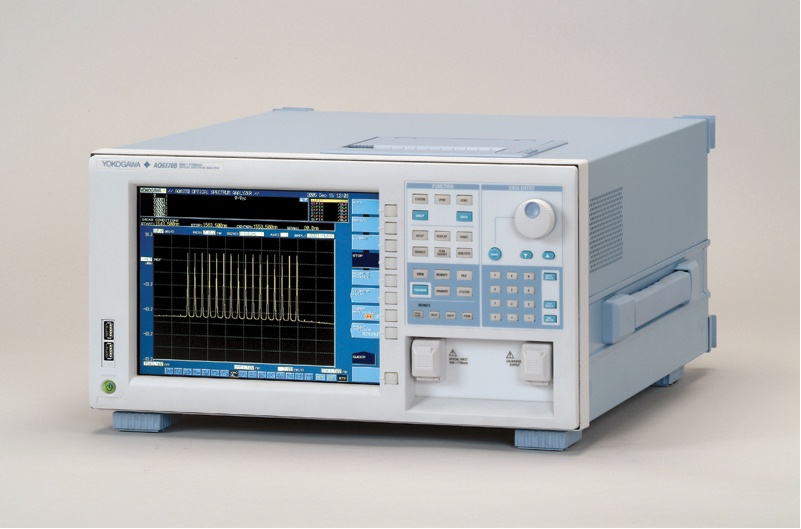 Horizontal river AQ6370B spectrum analyzer
Tan YanFei ( General manager) –S Jiang (specially help)
The name of product: Spectrum analyzer
Products brand: Yokogawa / horizontal river
Item Model: AQ6370/AQ6370B/AQ6370C/AQ6370D
The details of the products:
AQ6370B uses the high-performance form shade developed newly, can obtain high wavelength definition (0.02nm) And wide dynamic range (70dB) .
The new form shade has more precipitous spectral characteristic, can succeed in finishing 50GHz OSNR measurement of interval DWDM transfer system and assessing EDFA of a plurality of wavelength sources.
Dynamic range
¡À 0.4nm place 70dB of the crest value, the definition sets up 0.02nm (representative value)
Measurement limit
Power: +20dBm~-90dBm
AQ6370B can measure up to +20dBm luminous power, so direct measurement can be heavy-duty a light source, such as the pumping lasers of optical amplifier and raman amplifier. According to testing application and measuring the requirement for the speed, can not choose to measure the degree of sensitivity from kind 7.
Wavelength: 600nm~1700nm
AQ6370B not only covers the telecommunication wavelength, also includes being used in household electrical appliance, medical treatment and industrial material applied visible wavelength range.
The degree of sensitivity of level is set up
NORM Hold, NORM Auto, NORM, MID and HIGH (1, 2 and 3) ,Correspondent degree of sensitivity reach 90dBm from 60dBm.
The high dynamic range mode is set up
Make SWITCH mode get larger dynamic range by reducing and mixing astigmatic influence, it is applicable as to MID and HIGH mode.
Multimode optical fiber test function
AQ6370B use **The space inputs the structure, can deal with GI 62.5/125 of the multimode optical fiber. The multimode optical fiber is usually used in high-speed Ethernet, such as GE-PON.
**It helps to realize metric repeatability too that the space is input, because the insertion loss of the input interface changes the input type with the optic fibre in less than other form shades.
Take the multimode optical fiber (62.5/125mm) 850nm laser
Sample waveform
**Space form shade
Structure input
Optical measurement function of the pulse
AQ6370B can use PEAK HOLD or outside **Flip-flop come being prehensile pulse signal peaking generation,in order to in pace with measuring signalling. Because it has adopted the highly sensitive mode, is not merely suitable for the transmission loop-around test in the telecommunication system, also suitable for the low measurement of power at the early development phase of the chip of the laser.
Sample waveform of the optical signal of the pulse
Monitor and the real-time remote operation of trouble removal
AQ6370B Viewer (the software of available utility program)
AQ6370Viewer is PC utility program software package which is suitable for AQ6370, AQ6370B and AQ6375.
AQ6370BViewer was designed for AQ6370B spectrum analyzer. This software has user interface and function exactly the same as AQ6370B, so can reveal and analyze the undulate data that AQ6370B obtains conveniently.


Contacts: Tan YanFei
Telephone: 86075521502766
Fax: 860755-21502766
Email: yixin1718@126.com
Web site: http://www.yqybshop.com
Address: Shenzhen the intersection of Medulla Junci and the intersection of newly developed area and the intersection of Chinese pine and the intersection of way and it remit of 408, A of mansion,